...THAT'S a spork!
If anyone is wondering, it's from a carton of Itsu Vegetable Festival crystal noodles:
For the record, while the soup is very nice, it turns out I ain't too skilled with a spork.
Happy Easter! Slightly belated (unless you follow me on Twitter) because I have been on a jolly to the city of Birmingham. What tempted me out there was not a musical thing, for once, but the promise of 'Street Food Inc', in which Brindleyplace would be filled with stalls offering all manner of foodstuffs.
This is exactly what was there, and I was quite impressed with the variety of cuisines on offer. Let's see exactly what I ate...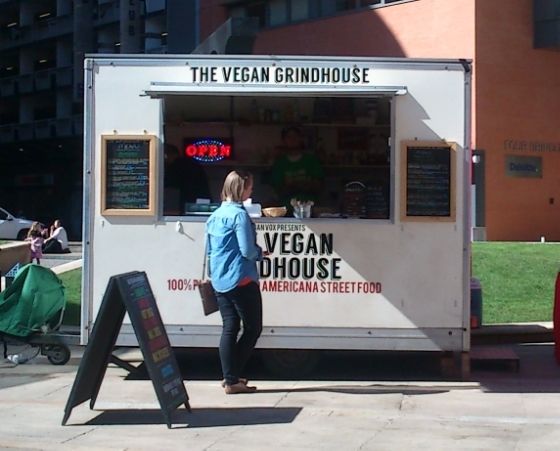 First up is a classic burger van, but this does not sell any old burgers: it sells vegan burgers! And vegan ice cream, and vegan milkshakes, and vegan hot dogs, and...I really did need to buy something and get out of the way, so I went for the 'Little Kahuna' burger, with 'bacon' and' 'cheese' and 'burger sauce' and something really weird called 'salad':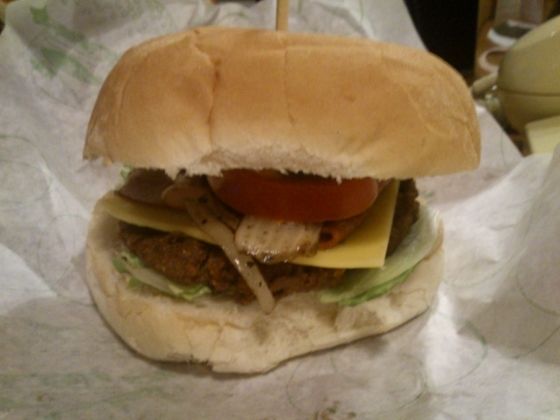 It got sneaked back to the hotel in the disguise of a paper bag from GNC, which turns out to be exactly the right size for burger-sneaking. Thanks to Vegan Grindhouse.
I went back the following day having spotted one of my all-time favourite things: MEXICAN FOOD.
This is Cantina Carnitas, home of nachos, tacos and THE BEST VEGETARIAN BURRITO EVER: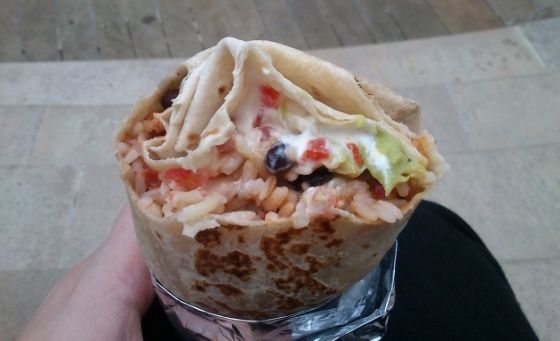 This created a new condition on Twitter called 'Burrito Envy'. Sweet potato and mushroom chilli, rice, beans, sour cream, guacamole, cheese, coriander, and probably some other stuff. Served up in a handy foil wrap and scoffed down far too quickly. Burritos are following me on Twitter: you should follow burritos.
I also had a pancake with cinnamon and sugar. More on that later...
I wasn't intending to go back for a third time, but talk of the van with the wood-fired pizza oven played on my mind all night. How could I leave Birmingham without experiencing VAN PIZZA? So back to Brindleyplace it was, to get a load of THIS: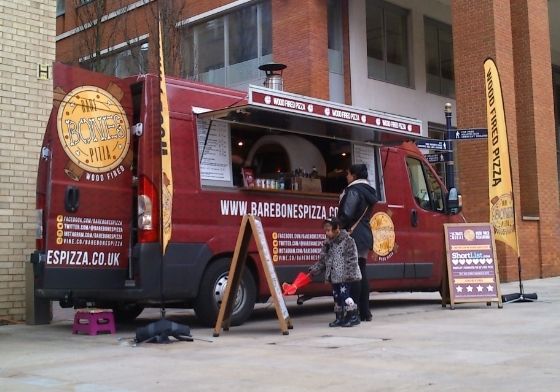 That's a VAN. With an OVEN.
Here is that oven: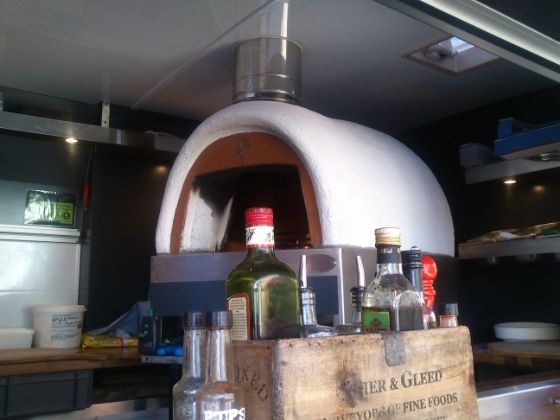 And it was used to make this: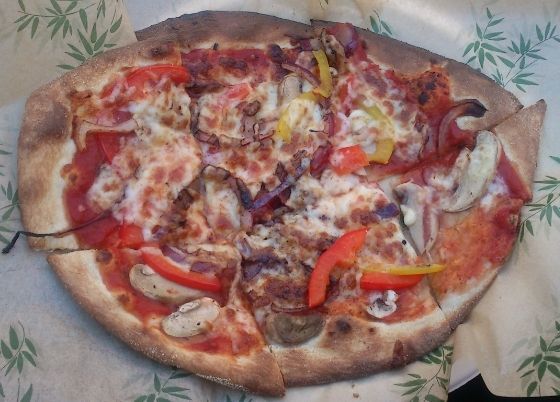 The crust tasted fantastic done in a proper oven, and a blood orange San Pellegrino washed it all down very nicely. You can follow van pizza here.
Obviously I needed something sweet for dessert, and Platinum Pancakes were there (with at least 100 jars of Nutella) to provide a cinnamon and sugar pancake the first time around, and a chocolate sauce one today. Here is the construction of said chocolate sauce pancake: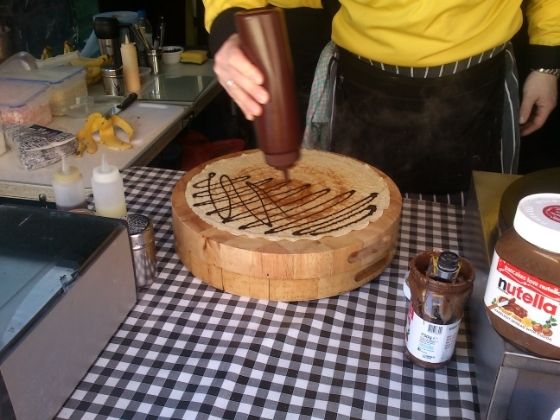 For the uninitiated, this is not fish and chips. This is chocolately goodness.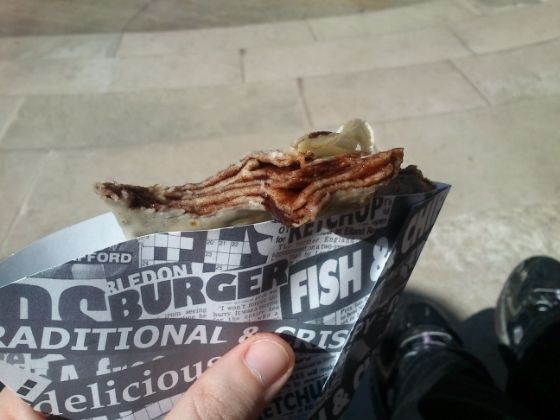 VERY CHOCOLATELY GOODNESS.
Anyway, eating it all out by the fountains was a very relaxing experience. The weather got better as the long weekend went on and I believe I may have achieved Nirvana. This picture doesn't really do Brindleyplace much justice:
Not to be left out, my hotel did quite a good job as well...
If I had been there for the full four days, I suspect I'd have also tried the fries with cheese, nachos, tacos, milkshakes, stuffed dumplings, lemon pie and any number of other these that caught my eye whilst wandering round. A thoroughly enjoyable experience!
It's Chinese New Year, and at my workplace we will use any excuse to hold a lunchtime buffet.
As the buffets are usually cold, it was a bit of a challenge working out what people should bring in. But, with a bit of ingenuity, we decided that we could serve up hot food alongside the cold snacks. Knowing how interested you all are in these things, here are the results...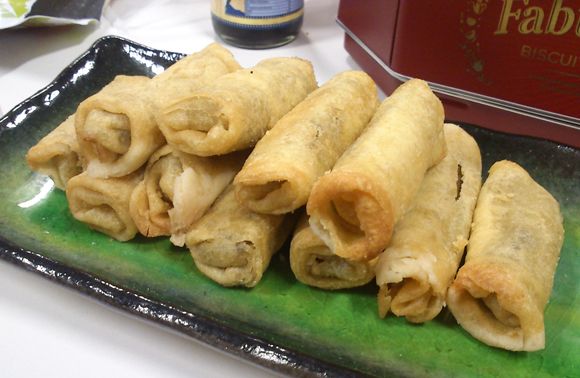 For starters, a great big heap of duck spring rolls. We had plum dipping sauce, sweet chilli sauce and hoi sin sauce. They were baked away from the office and placed into a delivery sack borrowed by a colleague from a real Chinese takeaway! Of course, everyone brought in prawn crackers, so we had a gigantic mound of those as well.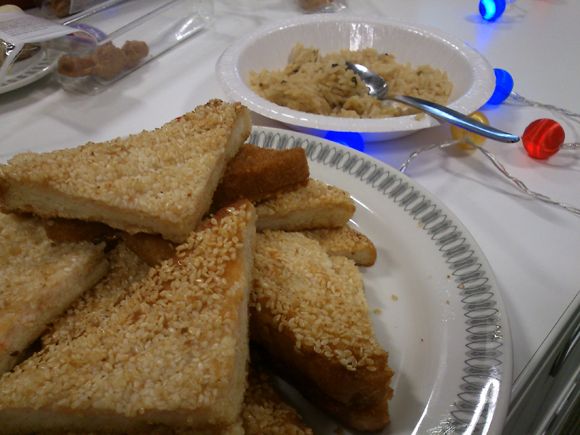 There was also the biggest bag of prawn toasts you have ever seen. In the bowl is egg fried rice - we used the microwavable packets.
In the bowls are soy chunks (very chewy but an interesting meat replacement), sliced water chestnuts, and bird's eye chilli coated peanuts. Also featured is one of the empty packets from the noodles we used - you can just put ramen in a bowl with some boiling water and it will cook itself, no need for a stove or a pan, so I took orders by e-mail and then made up individual bowls and delivered them to people's desks. We had chow mein and chicken and sweetcorn flavours.
Not pictured is two kinds of soup: a colleague made chicken and sweetcorn and hot and sour vegetarian soup which we kept in polystyrene containers until it was ready to be served.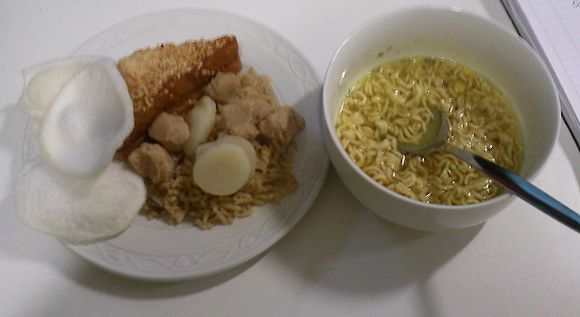 Here's my first helping - prawn toasts, egg fried rice and water chestnuts with soy sauce, and a bowl of chicken and sweetcorn flavour noodles (no actual chicken involved)...
...and here is dessert. Chinese desserts are either a bit fiddly or not really suitable for a work buffet situation, so we just improvised - in this bowl is red velvet cake, millionaire's shortbread squares, and tropical fruit salad with added mandarin segments. I had intended to add canned lychees, but there was not a can of lychees to be found in the whole town. I got some fresh ones instead.
Also pictured is a brown sugar glutinous mochi ball with red bean filling. I really enjoyed them but they are a bit of an acquired taste and very filling. Plenty of those left over for me to gorge myself on tomorrow!
Have you done anything for Chinese New Year! Tweet me your food photographs!